The proposal to use social media within a business context often comes from the bottom up.  We all know that the younger generations tend to be more comfortable, knowledgeable and skilled in the use of the raft of social media sites and tools.  Therefore it is no wonder that the idea often comes from someone who may not naturally be considered to have deep understanding and experience within the business.  New ideas, as ever, can be threatening to some, inspiring dramatic changes, opening businesses up to reinvention and overhauling entire operations. I remember being told by an employer that email was a 'stupid waste of time' and that it was too risky to store any of our client records on a computer!  Understandably many managers and employers can be sceptical of social media (fools!) because many people are terrified of change (point them in the direction of "Who Moved My Cheese" by Spender Johnson).  But in business, like life itself, change and relative risk should and must be embraced.  Most of us in business didn't do it for an easy life without challenges, we did it to push boundaries, establish new and exciting innovations and to have a wee adventure along the way (did I forget to mention making shit loads of money? Surely that goes without saying!). 
Talk to a many about social media and they will still tell you that it's just a tool for narcissist geeks or students that have nothing better to do than share what they had for breakfast, how many times they scratched their arse and what their watching on the TV – all true but that's a fraction of the power and application of SM! Many of us eat, sleep and breathe social media marketing – and we are still the tip of the iceberg, most businesses have not yet dipped their toes in the SM water, by the time many do, we'll have moved on!
This blog is not trying to be the definitive argument, we all need to be creative and come from our own angel but the following is full of mind blowing statistics about the power of social media. It starts to get people to question their three wise monkey's approach to the topic and may help to convince your colleagues, clients or even friends that social media investment pays.  I doubt if you are reading this blog, on this website, that you are one of the sceptics, but hopefully the video clips combined with a few applied ideas about how you could use these powerful tools in your business will convince your bosses to prioritise social media alongside the more traditional marketing tools.
Watch the video >> Social Media Revolution 2011  http://youtu.be/3SuNx0UrnEo 
http://www.socialnomics.net/ Part of the world's most watched Social Media video series; "Social Media Revolution" by Erik Qualman. Based on #1 International Best Selling Book Socialnomics by Erik Qualman. This is a shorter version that includes new social media statistics for 2011.
There are still many marketers, many businesses thinking – how can this really help us? We'll be covering the topic in more depth in future weeks – but since this is my first post for Smart Insights as their social media maven (sorry Social Media "Strategist") I thought you might like a little bit of background.
The emotional arguments for social media
If the YouTube clip is not convincing enough, let's see what a number of experts have to say on the topic:
"The old ways of marketing are dead – and being safe is now too risky" Seth Godin, writer, marketing guru amongst other things
"Social media is like a snowball rolling down the hill. It's picking up speed. Five years from now, it's going to be the standard." Jeff Antaya, chief marketing officer of Plante Moran
"Social media is not a fad, but a paradigm-shifting toolset" Deborah Hymes
"A powerful global conversation has begun. Through the internet, people are discovering and inventing new ways to share relevant knowledge with blinding speed. As a direct result, markets are getting smarter – and getting smarter faster than most companies ."   The ClueTrain Manifesto: The End of Business as Usual – Locke, Levine, Searls,& Weinberger
The business arguments
If your bosses are still saying that social media may be powerful but its not a priority for your business, how about an argument based on lead generation and bottom line results? Stelzner's 2011 study neatly summarises the benefits of social media. He says:
"The number-one benefit of social media marketing is standing out in an increasingly noisy world. A significant 88% of all marketers indicated that their social media efforts have generated more exposure for their businesses. Improving traffic and subscribers was the second major benefit, with 72% reporting positive results."
In Stelzner's study he found that more than half of marketers indicated a rise in search engine rankings was a benefit of social media marketing. As search engine rankings improve, so will business exposure, lead generation efforts and a reduction in overall marketing expenses. More than half of marketers found social media generated qualified leads. The findings are summarised below.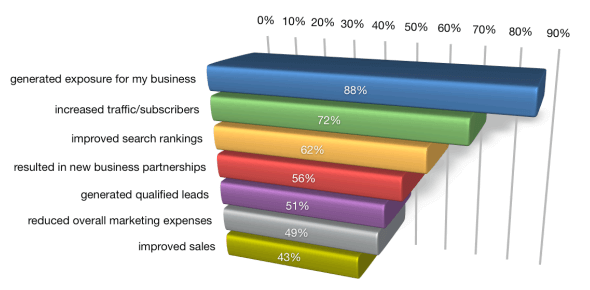 http://www.socialmediaexaminer.com/SocialMediaMarketingReport2011.pdf
Another study published by Hubspot shows significant customer acquisition success by companies using blogs, Facebook, LinkedIn and Twitter.
Source: State of Inbound Marketing Report – http://bit.ly/aewfHr
And those figures are broken down further still to prove social media success within the B2B as well as B2C sectors: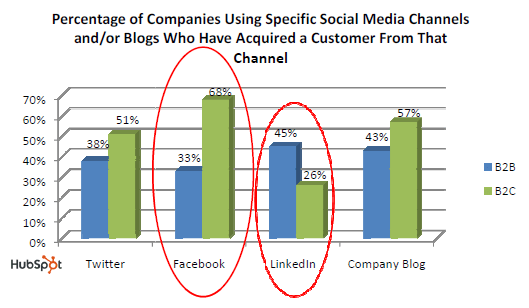 Source: State of Inbound Marketing Report – http://bit.ly/aewfHr
I'll leave you today with one more video that questions whether social media is a fad. This is another official update to the original "Shift Happens" video. It was completely new in 2009 but still full of mind blowing facts, but yes already way out of date! Includes facts and stats focusing on the changing media landscape, including convergence and technology, and was developed in partnership with The Economist. For more information, or to join the conversation, please visit http://mediaconvergence.economist.com and http://shifthappens.wikispaces.com.
Watch the video >>  Did you know 4.0  http://youtu.be/6ILQrUrEWe8